Honduras is one of those small countries in Central America that we want to keep for ourselves … Often overlooked in guidebooks, Honduras allows an extension to the Caribbean from Guatemala or El Salvador, but without ignoring its beautiful archaeological site of Copán and the multitude of colorful birds recorded in the Pico Bonito Park or the beetles in the Cusuco Park.
The island of Roatan is a worth known jewel of the Caribbean Sea … A tropical and green island surrounded by water in shades of blue and turquoise, and at 100 m from the beach, the reefs of the second barrier coral reef in the world after Australia ones.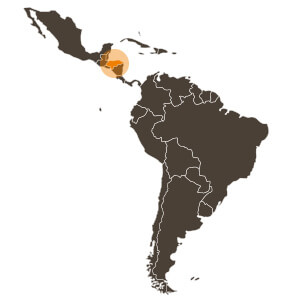 Honduras program suggestions
Honduras at a glance
Area: 112,090 km². Roughly five times smaller than France.
Population (about): 8 million 300 thousand inhabitants.
Capital Tegucigalpa: 1 million 300 thousand inhabitants.
The second largest city of the country: San Pedro de Sula 500,000 inhabitants.
Economy: With its 820 km of coasts, Honduras has a large fishing industry. Coffee is one of the main export products as bananas, sugar cane, corn, oranges, shellfish, tobacco and livestock.
Have read, seen and heard: (read) The Maya by Pierre Becquelin and Claude-François Baudez, specialized archaeologist of Mesoamerica, director of the Copan Archaeological Project and has participated in numerous research and studies in Honduras, and by the same author (with Sydney Picasso) The Lost Cities of the Maya, (read) Prision Verde or the beginnings of a social reality literature written by Ramon Amaya Amador, (seen) El Reyecito of Fosi Bendeck considered one of the first films produced in the country, (heard) Estampas Musicales Hondureñas by the songwriter Federico Ramirez.
To read, see and hear these days : (read) El Mundo es una puñado de polvo a realistic social work about the phenomenon of bands and gangs in Honduras by his Honduran author Jorge Martínez Mejía, (read) the poems De Amores e Epitafios by the award-winning poet and editor Amanda Castro, (see) Amor y Frijoles a soap opera with colorful characters and customs typical of Honduras and by extension of Central America (see) the very visual art, and thought-provoking on our relationship with the objects, of the talented young Adan Vallecillo, (hear) the engaged music in the first album De tributes, Guancascos y otras luchas of the band Café Guancasco and a forthcoming new album which will include the participation of several musicians from Honduras.