In South America, a small country wedged between two giants, I named Uruguay! no need for domestic flights to get from one point to another, it is a leisurely stroll between estancias, small typical villages, and long horse rides along pristine beaches during flamboyant sunsets. Not to mention, Tannat is to Uruguay what Malbec is to Argentina so good wines filled with sunshine accompanied by an artisanal cheese, food, made in Uruguay, has a bright future ahead!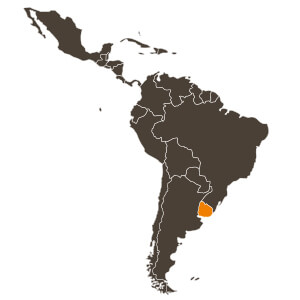 Uruguay program suggestions
Uruguay at a glance
Area: 176 220 km2. Roughly four times smaller than France. It is the smallest country in South America.
Population (approximately): 3 million 500 thousand inhabitants – and with Panama, the least populated country in all of Latin America. Capital Montevideo: 1 million 500 thousand inhabitants.
Economy : marked by agriculture and more by livestock, since the country is an extension of the Argentine pampas grasslands. Follow the industry, mainly food and tourism, which is growing more and more.
Have read, seen and heard : (read) the timeless La Tregua by Mario Benedetti, novels El Astillero and Juntacadáveres by Juan Carlos Onetti and poems by Juana de América, or Juana Ibarbourou, (read) Open Veins of Latin America by Eduardo Galeano, (seen) Tables on his country painted by Juan Manuel Blanes and sculptures in the capital by José Belloni, (seen) the poetic road movie El Viaje hacia el mar by Guillermo Casanova, (heard) Al otro lado del rio by musician Jorge Drexler, the compositions success as Chiquillada and A mi gente by José Carbajal known as El Sabalero and (heard) the group Chocolate-Mayonesa and their tube in CDs Chocolate 2000 and Bate que Bate, (heard) the rhythm of candombe, classified intangible and cultural world heritage, fused with other rhythms jazz, rock, or the murga uruguaya by artists like Ruben Rada and Jaime Roos, or fine pieces of tango by Julio Sosa and those made by the orchestra leader Francisco Canaro one of the most prolific tanguero.
To read, see and hear these days : (read) the next book of Daniel Chavarria based on the leader of the Tupamaros movement, Raul Sendic, (read) essays and articles published in various journals written by Jorge Majfud, (read) the novel jubilant by Carmen Posadas Invitación a un asesinato, fable and reflection in the novel El lector inconstante, Vida del cuervo blanco by Carlos Lisano, (see) La Demora, the latest film by Rodrigo Pla and the short film ¿Como te clasifico? by Guy Dessent, (escuchado) the album of alternative music Bipolar performed by the group El Cuarteto de Nos.