Put your steps on those of Fitzcarrald, Aguirre, Hiram Bingham, Maria Reiche and many others and go in search of the golden city hidden in the Amazonian jungle, go to discover the magnificence of a city Inca, goview from the sky enigmatic lines in a desert … And this is only the beginning of an adventure! Peru combines our imaginary with hovering flights of condors, llamas and vicuña which are, going to know how, the same family as camels, bears with glasses who do not need, spider monkeys swaying and the shouts of scarlet macaws, with legends of Pachacutepec and Tupac Yupanqui and theirs feats … all tangle … how to pass from bear's glasses to Yupanqui on a camel … but since Vargas Llosa is declared the master of romantic gush, then everything is possible … why would you not be his disciple? And travelling to this Peru, this land of all wealth and therefore of all desires, this land where disparities geo-socio-cultural are gigantic, your trip will only exacerbate your talents of a modern Indiana Jones and the Llosita which is in you will be, once back home, rewarded by a je ne sais quoi of South America.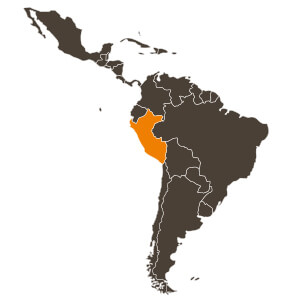 Peru program suggestions
Peru at a glance
Area: 1,285,220 km². Roughly twice as large as France.
Population (approximately): 30 million inhabitants – about half of the French population.
Capital Lima : 10 million inhabitants
The second largest city in the country: Arequipa: one million inhabitants.
Economy: The Peruvian economy is among the most successful in Latin America. It is based primarily on the exploitation, processing and export of natural resources, agricultural and marine. Gold is the main export of Peru, which became the fifth largest producer. The country has an agricultural potential interest due to its wide variety of climates and irrigation of desert lands of the coast. Fishing is a vital sector that benefits from the rich waters of the Pacific, Peru is the second largest producer.
Have read, seen and heard : (read) the works of the Nobel Prize for Literature Mario Vargas Llosa, including La Casa Verde and Pantaleon y las visitadoras and La tia Julia y el escribidor, (read) Un mundo para Julius by Alfredo Bryce Echenique and Cuentos and previously unpublished ones in the collection Palabra del Mudo by Julio Ramon Ribeyro, (read) Alturas de Machu Picchu poem from Canto General one of the most famous works of Chilean poet Pablo Neruda, (seen) the tables on topics religious from Cusco's school characterized by the use, misuse?, bright colors and gold, and paints of a great painter Daniel Hernandez Morillon, (seen) the historical and ethnic value of portraits and landscape's photographs made by Martin Chambi, (seen) the documentary Ayahuasca, the snake and I realized by Armand Bernardi and the Andean movie of Luis Figueroa as Yawar Fiesta one of his best-known works, (heard) and danced Marinera, the national dance, (heard) compositions Lamento Negro by Susana Baca and Peruvian song and most famous in the world El Condor Pasa by composer Daniel Alomía Robles and (danced) the Peruvian waltz most interpreted in the world La Flor de la Canela by Chabuca Granda and in her lineage Eva Ayllon the other great voice of contemporary Peru, and (heard) the golden voice of the soprano diva Yma Sumac, and another type of music the Peruvian cumbia by Grupo 5 .
To read, see and hear these days: (read) burlesque and surprising Sol de Tokio by Francisco Joaquin Marro, young people in Peruvian society in crisis, (read) Atardecer de Grecia Caceres and Un lugar llamado Oreja de Perro the first novel by a talented young Ivan Thays, (read and see) Gold of the Incas, origins and mysteries, a magnificent work and texts by leading experts, and the novel Grandes Miradas by Alonso Cueto who inspired the film Mariposa Negra directed by Francisco Lombardi, (see) the film Fiesta Andina, un concert baroque au Pérou directed by Yannis and Alexis Metzinger, and (see) a history of tolerance on a background of fiction epidemic in the film El Limpiador by Adrian Saba, (listen) singer-songwriter Gian Marco Zignago and his album 20 Años, and follow the exceptional guitar of the concert artist Jesus Castro-Balbi and Peruvian tenor Juan Diego Florez.