In the heart of South America, Paraguay is a small country with huge playgrounds not only appreciated by a great variety of birds, but also by any visitor looking for new travel adventures; here, you will share a terere while your hosts sing their history in Guaraní, the only Native American language to be an official language in South America. No sandy beaches, no pre-Columbian pyramids, but still alive traditional customs which continue through crafts delicate lace ñanduti and melodious sounds of the harp.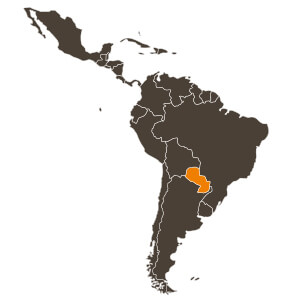 Paraguay program suggestions
Paraguay at a glance
Area: 406 752 km2
Population (approximately): 6,460,000 inhabitants – The Chaco represents two-thirds of the country but is only inhabited about 5% of the population. In this region, indigenous peoples are fighting to preserve their land and their customs and recognition of their identities. 200.000 Guarani are in Paraguay, Brazil, Bolivia and Argentina.
Capital Asunción: 2 million 100 thousand inhabitants, is one third of the country's population.
The second largest city in the country: Ciudad del Este : 320,800 inhabitants
Economy :The agricultural sector employs nearly a quarter of GDP. They harvest cotton and soybeans. The country's agricultural future rely entirely on agricultural products such as sugar cane, wheat, corn and yucca. Paraguay had several hydroelectric projects with Brazil and, to date, it is self-sufficient in energy.
Have read, seen and heard : (read) novels, Yo el Supremo among others, of Augusto Roa Bastos, (read) Gabriel Casaccia and intense poetry of Elviro Romero, (read) playwriting in Guarani language by Julio Correa, (seen) The Mission directed by Roland Joffé, the film was shot largely in the Iguazu National Park, (heard) Paraguayan music performed by Félix Pérez Cardozo for a 100% Paraguayan polka and the compositions guitar by Agustin Barrios Mangoré.
To read, see and hear these days: (read) Conquistar la lengua Guarani by jesuit Bartolomeu Media who fights to defend the people aché-guayaquí and to preserve the Guarani language, (read) There you Go! a comic satire on the development, written by Oren Ginzburg, (read) Fecha feliz by Nestor Amarilla, (see) a Guarani thriller 7 Cajas directed by Juan Carlos Maneglia and Tana Schémbori, (see) the socio-political documentary Tierra sin mal directed by Anna Recalde Miranda, (heard) the Paraguay harp played by Ismael Ledesma or Alderete Ignacio, (hear) classical guitar and other musical styles, from the talented Berta Rojas duet with popular guitar of his compatriot Juan Cancio Barreto.