Despite a turbulent and cruel history not so far ago, Nicaragua is one of those countries that make us reconcile with life … Like a wonderful world, volcanoes guarantee the sustainability of places, 25 million years old , they are as some caring big brothers, huge lakes are like inland seas, beside, above, more above, below, life teems. It is certain that Rubén Darío could only be a Nicaraguan poet, that the folklore of the country could only be rewarded by his grace and originality, that the national bird is so nice to want to hold him long in the lens focus, that its white and pale yellow flowers necessarily had a divine character to the Mayans, that the children's smile hove in space time, that it has the best rum in the world …. Certainties? Run check for yourself!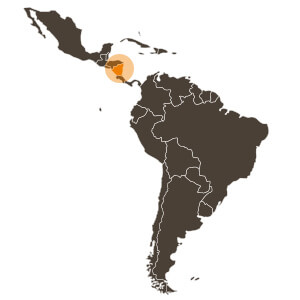 Nicaragua program suggestions
Nicaragua at a glance
Area : 129 494 km2. It is the largest country in Central America, but the lowest density inhabitants / km ² after Belize.
Population (approximately): 5,800,000 inhabitants.
Capital Managua: 2 million 135 thousand inhabitants.
The second largest city in the country : Léon: about 185,000 inhabitants.
Economy: Agriculture is the major economic activities (cotton, coffee, sugar cane, banana, corn) she represents 60% of its exports. His rum Flor de Caña is among the best in the world as the qualities of his tobacco and cattle. Still under consideration by the Russian government, a chocolate plant in Nicaragua will put the country as the largest producer in Central America and the ninth worldwide.
Have read, seen and heard : (read) Peregrinaciones by poet Ruben Dario, (read) books and films of Haroun Tazieff and ones of Jaime Incer Baquero fervent environmentalist whose books have become school books such as Geografia Dinamica de Nicaragua, (seen) paintings of Armando Morales, which mixes contemporary art and elements of his homeland, (seen) and attend to El Güegüense representation a mixing street theater masked, music and folkloric ballet, classified by Unesco as intangible cultural heritage of humanity, (heard) Carlos Mejia Godoy composer of the nice Nicaragua Nicaraguita.
To read, see and hear these days : (read) La promesante by Rosario Aguilar, the first woman to enter to the Academia Nicaragüense de la Lengua, and her latest novel Miraflores, (read) poems Tierra sin Tiempo by Alvaro Urtecho Lacayo and those of Madeline Mendieta poet of the new millennium, (read) Un baile de Máscaras and El cielo llora por mí by Sergio Ramirez, (see) the sublime photographs of her latest book Liens-Lazos by Iara Vega-Linhares, a hyphen union between Switzerland and Nicaragua, (see) La Yuma directed by Florence Jaugey, Nicaragua is the third character in the film , (hear) to the last album Soy y Sere by the little Prince of Salsa Luis Enrique and (hear) the electro jazz waves by musician and producer Guillermo Norory "Momotombo" native of course of the volcano region.