Huge Mexico, stretching from his border with the United States to the gates of Central America, huge because of its vast cultural and natural richness. A country where volcanoes flirt with the heavens, butterflies are orange, seas and rivers feed from azure blue to blue celadon, where temples have unpronounceable names yet unforgettable, a country where mariachis sing for their ladies while the voladores swirl at the top of a mast, a country where the Day of the Dead celebration rhyme with life, a country so difficult to summarize due to its diversity, where, in each region, in every Mexican heart, tradition and modernity go hand in hand!
We will advise you to find the beautiful typical Yucatan hacienda, for a Maya treasure hunt on the road Puuc, to escape along perfumed vanilla or chocolate roads from Veracruz to Teotihuacan, for the best discovery of colonial Mexican culture from Oaxaca to San Miguel de Allende through Guanajuato and Puebla, for a meeting with the Lacandon of Chiapas, to introduce you to the rich pre-Columbian folklore, for diving with sea lions in a maya cave or for some big fishing unforgettable, for a ride train and 4×4 in the desert, for a romantic getaway on an island in the Mexican Caribbean sea or on the Pacific coast in lush greenery. For two, with friends or with your tribe, Mexico makes all your desires achievable!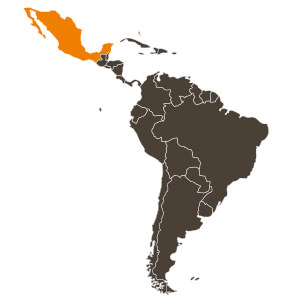 Mexico program suggestions
Mexico at a glance
Area : 1 972 550 km² – 3000 km from north in Baja California to south in the Yucatan
Population (approximately) : 112 million inhabitants.
Capital Mexico and its periphery: 20 million inhabitants.
Guadalajara : 1 million 650 thousand inhabitants
Economy : First commercial power in Latin America, the 14th economy in the world.
Have read, seen and heard : (read) the works of Octavio Paz, Carlos Fuentes and Juan Rulfo, the historical novel Azteca by Gary Jennings, (seen) a film with the "Doña" Maria Felix and Chesperito series: El Chavo del Ocho and Chapulin Colorado, the painting with an incredible force of Frida Kahlo and huge murals of Diego Rivera, the beautiful photographs of the Mexican Renaissance by Tina Modotti and Manuel Álvarez Bravo, the direction of Luis Buñuel's movie in Los Olvidados, and (heard) some mariachis as Mi Ciudad of Guadalupe Trigo or the irresistible Cielito Lindo.
To read, see and hear these days : (read) The three Mayan Codex by Eric Taladoire and Just Disappear by Carmen Boullosa, (read) El ultimo lector by David Toscana and Fiesta en la Madriguera, Juan Pablo Villalobos's first novel comical and ruthless, (re-read) Le Clézio who was awarded by the Order of the Aztec Eagle as "a specialist in ancient civilizations in Mexico", (see) sculptures and installations by Gabriel Orozco at the Deutsche Guggenheim, (re) view the complete filmography of Iñarritu and have a look for Michel Franco and his film Despues de Lucia and (hear) the rock voice of Julieta Venegas, be overwhelmed by the wave electro-Latin Mexican of Camilo Lara and the Instituto Mexicano del Sonido and their last album Politico, and re listen to the first two cd of the duo Rodrigo y Gabriela, and (see and hear) a beautiful documentary Hecho en Mexico, a vibrant musical odyssey with songs and conversations.