Custom El Salvador Travel
El Salvador, Cuscatlán Indian language means "land of jewels", this small Central American country holds certainly a lot of surprises! Scent of coffee floats in the picturesque villages of the flowers road while majestic volcanoes are watching you other taunt you with some fumaroles … From some viewpoints, the Pacific draws away, it seems wise and calm but don't be wrong some of the waves attract surfers the most experienced in the world. Lakes and national parks are a haven for an intense wild life, pre-Columbian sites lead us in history, villages are living testimonies scenes of traditional life in El Salvador, the impression that the elements can unleash from one moment to another is palpable but it reinforces the feeling that the country is moving, and must be discovered before the crowd.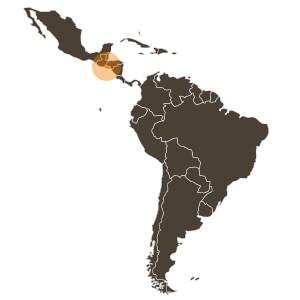 El Salvador program suggestions
El Salvador at a glance
Area: 21 041 km², the smallest country in Latin America ands the only country in Central America to have no coastline on the Caribbean Sea.
Population (approximately): 7 million inhabitants with the highest density in Central America.
Capital San Salvador and Gran San Salvador totalize : 1 million 883 thousand inhabitants
Second largest city in the country: Santa Ana: 245,421 inhabitants.
Economy: Republic of El Salvador is the smallest Central American country, but it ranks third in Central America's economy. Since it has few natural resources, the country imports many raw materials, fuels and many other products. The country's economy is mainly based on services and communications. The manufacturing industry is, in turn, the largest in Central America. In terms of agriculture, El Salvador is one of the largest producers of coffee in the world.
Have read, seen and heard: (read) a literary classic Salvadoran Andanzas y maladanzas by Alberto Rivas, (read) Cuentos de Cipote and Cristo Negro by Salvador Salazar Arrue better known by his pseudonym Salarrue, (seen) paintings of Dagoberto Nolasco and José Mejía Vides, icon of processing pictorial Salvadoran, (seen) El Carretón de los sueños by the filmmaker Alejandro Cotto, (heard) the group Rock most iconic of El Salvador in the 80s : Broncco known as B'Rock.
To read, see and hear these days : (read) Historia del traidor de nunca jamás and Un mundo en el que el cielo cae y cae written by Rafael Menjivar Ochoa or writing poetry, violent and cynical, (read) Columbian art by Maria Teresa Uriarte and Leticia Staines and Pigmento Azul Maya by Constantino Reyes Valerio, (see) Sobreviviendo Guazapa the latest film produced and directed by Roberto Salvador Davila, based on the civil war shook the country, lighter (see) the festivities on the occasion of the 155 years anniversary of the city of Suchitoto or participate in the corn festival every year in August, (see) and enjoy in all villages of El Salvador the painted crafts inspired by the artist Fernando Llort, (hear) songs, with fusion rhythms of reggaeton, rap, hip hop, of two brothers Shaka & Dress, such as Pas de Panique, Unamonos Ya or Vamos al Grano, the latter two respectively engaged on education and nutrition in Central America.