Custom Dominican Republic Travel
The Dominican Republic make us a dream … turquoise blue lagoons, water at 26°, tropical music, palm trees dancing, hiking among lush vegetation, towering peaks, salt lakes which combines red flamingos and American crocodiles freely, exuberant flora, multiple mangroves in dunes of Bani, romantic rides on the saddle of a horse criollo, tropical fruits juice just delicious or a cup of coffee in a colmado, rafting with adrenaline at the top, sleepy fishing villages, colonial relics dating from 500 years, golf green fees to damn the most jaded, a Taino heritage carved in stone, colorful and scary diablitos during Carnival, lobsters grilled with a little lime zest, rum Brugal amber, fragrant and Extra Viejo, AOC Arturo Fuente, Juan Clemente and many others cigars, a Mecca for kite surfing, contagious cheerfulness of its people…the country is a beautiful destination that deserves a visit beyond the beaches.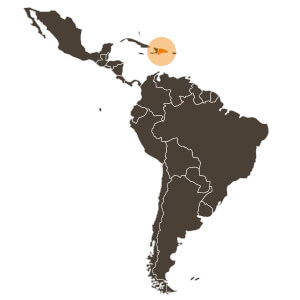 Dominican Republic program suggestions
Dominican Republic at a glance
Area: 48,730 km2. It occupies about two-thirds of the island of Hispaniola in the Caribbean Sea, Haiti occupies the western third of the island.
Population (approximately): 10 million 90 thousand inhabitants
Capital Santo Domingo: 2 million 950 thousand inhabitants including the metropolitan population, it is the oldest city in the New World.
The second largest city of the country : Santiago de los Caballeros: 1.5 million in habitants
Economy : mainly dependent on agriculture and tourism. Largest producer and exporter of cigars in the world and second largest producer of amber. Another specificity, Los Chupaderos mine is the only mine in the world of Larimar, a semi precious stone blue.
Have read, seen and heard : (read) tales Cuentos escritos antes del exilio, Cuentos escritos en el exilio and Más cuentos escritos en el exilio by master hispano american of the genre Juan Bosch, (read and seen) La Fiesta del Chivo by the Peruvian writer Mario Vargas Llosa novel later adapted to film, deals with the last days of the dictator Trujillo, (seen) Nueba Yol led by Angel Muñiz, this comedy 100% Dominican was a resounding success, (seen) Impresiones Dominicanas by the Spanish artist Andrés Gil in love with the country, (seen) many films shot in the stunning scenery of the island, among others: "1492: Christopher Columbus," "Pirates of the Caribbean", "Apocalype Now", (heard) and danced the rhythms of merengue of Wilfrido Vargas and Juan Luis Guerra and bachatas of Antony Santos and Teodoro Reyes and salsas catchy of Johnny Pacheco and José Alberto "El Canario."
To read, see and hear these days : (read) Armando Almanzar's tales, national award for Literature 2012, (see) an exhibition of ceramics of Thimo Pimentel, (see) an explosive atmosphere in a baseball match, (see) a short film La Carta by Francisco Rodriguez or the film Cristo Rey, featuring the district of Santo Domingo, directed by Leticia Tonos, (see) paintings of talented artists as Miguel Ulloa and Biondi, (hear) and dance sensual bachata Por Ella by J'Martin or tropical music of Dominican popular artist Prince Royce and urban rhythm of Sensato (Del Patio) in Crazy People recently Latinos in Paris with Pitbull, the world's leading Latin dance pop.