Colombia seduces, Colombian people seduce us, and undoubtedly seduce you … A country… with a such exuberant nature, such pretty girls, such beautiful beaches, such majestic Cordillera, such cities overflowing with art, such typical pueblos, such sensual music, such baroque literature, such islands rich in biodiversity, such spontaneous smiles, such varied tropical fruits, such colorful birds, such mysterious archeology, such amazing ethnic mosaic , such plunging canyons and powerful rivers… will not leave you indifferent. After a trip to Colombia you will not be the same, this is definitely the trip of a lifetime, one that will mark forever in the heart.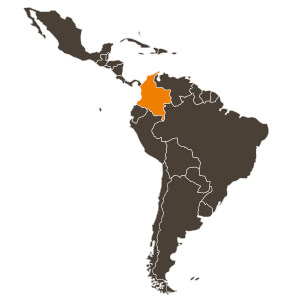 Colombia program suggestions
Colombia at a glance
Area: 1,147,748 km2. Roughly twice as large as France.
Population (approximately): 46 million 600 thousand inhabitants.
Capital Bogota: 8 million people or one sixth of the national demographics.
The second largest city in the country: Medellin: 3 and a half million inhabitants
Economy : coffee production felt by nearly 20%, meantime coal has almost doubled, pushing the country to the thirteenth rank in the world. During the same period, the country has also emerged as the third largest oil producer in South America, behind Venezuela and Brazil. Tourism has become the second largest source of revenue for the country, after oil.
Have read, seen and heard: (read) the magical realism of Cien Años de Soledad by Nobel Prize Gabriel Garcia Marquez, la Nieve del Almirante by Alvaro Mutis, la Voragine by José Eustasio Rivera, (read) Que viva la musica! A social reality portrayed by Antonio Caicedo, and (read) the prolific German Castro Caycedo, (seen) the serial Café con aroma de mujer, one of the most successful of its kind, (seen) the curves sculpted and designed by Botero, and the condors represented in the paintings of Alejandro Obregon, (seen) the films Estrategia del Caracol directed by Sergio Cabrera and La vendedora de rosas by Victor Gaviria, and Maria, full of Grace, (heard) the music of the Renaissance and Baroque interpreted by pianist Rafael Puyana, (heard) and danced the music of the Caribbean coast the vallenato music mixed with pop and rock played by Carlos Vives, famous cumbias which identify Colombia worldwilde as la Colegiala, la cumbia cienaguera, un fuego de sangre pura, and those sung by the emblematic figure of Cumbia, and African drums, Toto la Momposina, (heard) and dance with Joe Arroyo, Grupo Niche and Guayacan'salsas, and of course on the compositions of Shakira and Juanes.
To read, see and hear these days : (read) El ruido de las cosas al caer by Juan Gabriel Vasquez and 35 Muertes by Sergio Alvarez, (see) La playa by Juan Andrés Arango, and the Jhonny Hendrix Hinestroza's film : Choco name of the main character and also the beautiful landscapes of the Pacific Colombian region, (see) and listen Los Viajes del Viento beautiful film by Ciro Guerra, (hear) Ondatropica a musical journey through the ancient and the new generation Colombian music presented by Frente Cumbiero and Quantic and the vallenato song "La Inivitacion" composed by Jorge Celedon.