Custom Chile & Easter Island Travel
Chile streeeeeeetches length and, upon arrival, the desire to linger gain us as a lazy desire not to move from the table where animated discussions which mix the rhetoric of Neruda, the students outraged anger, the rebellion of the fishermen from Aysen, the Mapuche claims and the results of football, all in a single conversation, are more complex than a history textbook. But we want to know more, Chile is History in History, it is now part of a dynamic economy, but what else ? Chile is a country isolated during a long time, stuck between a mountain range and the ocean, it has forged its own identity, it keeps track of his isolation where each region claims his right to the image and the word. And therefore in each region, we would like to stay long enough to understand it better, to own these images of Atacama desert, of the blue glaciers, of the moai statues, of the Patagonia wilderness, of the lakes emerald and snow cones caring around them, for exchange with Chilean and share with them the love of their country. Do not wait! Chile opens its arms beyond the Pacific and above the clouds of the Cordillera, for all visitors to discover the beauty of its scenery and captivating culture of its people.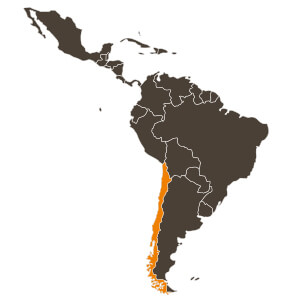 Chile program suggestions
Chile at a glance
Continental and insular areas: 756,950 km2. Slightly larger than France, Chile stretches over 4300 km long and an average of 180 km wide. Easter Island covers an area of ??162 km² and (approximately) 5100 inhabitants.
The Chilean Antarctic Territory would be 1,236,000 km ²
Population (approximately): 17 million inhabitants or just over a quarter of the French population. The Mapuche or Araucanian represent 4% of the Chilean population.
Santiago capital: 5 million 200 thousand inhabitants is more than twice the population of metropolitan Paris and about one third of the total population of Chile.
Economy: Chile is regarded today as the most stable country in Latin America economically, its economy is characterized by the export and import of raw materials. The country's main export is copper with 36% of the global market without forgetting the Lapis Lazuli production (2nd exporter) and the export of guano (1st exporter), Chile is also the largest producer of lithium.
Have read, seen and heard: (read) The poems of Pablo Neruda, and Roberto Bolaños, and the Poema de Chile by Gabriela Mistral, the first Latin American writer and first woman poet to win the Nobel Prize for Literature, (read) Un viejo que leia novelas de amor by Luis Sepulveda and El obseno pajaro de la noche by José Donoso, (read) La Reina Isabel cantaba rancheras de amor by Hernan Rivera Letelier, (read) Los convidados de piedra by Jorge Edwards, (read ) In Patagonia by Bruce Chatwin a globetrotter, (read) the comics Condorito by Pepo, (seen) Cueca dancers, the national dance, (heard) folk music performed by Violeta Parra and his song Gracias a la vida (an Andrée Wood's film is devoted to her) and the Latin jazz of Carlos Maza, and (heard and seen): on stage the group Chico Trujillo, their songs tinged rock and cumbia and to support their actions for the recognition of the Mapuche people.
To read, see and hear these days : (read) Bagual by Felipe Becerra Calderon, La deuda by Rafael Gumicio, Formas de volver a casa by Alejandro Zambra , (read) the contemporary poets Gonzalo Rojas and Nicanor Parra, (read and see) Latest news from the South with Luis Sepúlveda's texts and pictures of the argentina photografer Daniel Mordzinski, and Aux quatre vents de la Patagonie byand David Lefèvre and Solitudes unveiling his life on the island of Chiloé, (see) No the last film directed by Pablo Larrain, (see) the website www.basemusa.cl to know all about chilean museums in just one click, (see) the next Dakar 2015 if he goes thru Desert of Atacama as in 2014 edition, (hear) Mabit Moreno, which his Andean roots mingle with pop and folk influences and his latest album Cocofka, Bitman and Roban and their hip hop funk South American and the sensual voice for rap intonations of Ana Tijoux.