Brazil is a country that fascinates, is fascinating, which is always be fascinating … We all have a piece in the heart of Brazil, this multi culturalism, this mix influences, these shocking images that frighten us and those that make us smile, that bossa nova that make us swing, and this samba which leads us into the dance costumes and glitter. Go to Brazil is a unique experience, a whole myth that unfolds to you, dropping a few shots and recovering others, but the keystone of the journey is certainly the spontaneity met with Brazil. Brazil without talking about football, would be a bit like talking about Paris without mentioning the Eiffel Tower, as well as news lends itself! So prepare yourself for the 2014 Mundial de Futebol most electrifying in the history. Then, still in the sport, Brazil is hosting the 2016 Olympic Games, when we said that Brazil does nothing by halves! Until these events, you can still immerse yourself in February Carnival of Salvador da Bahia or Olinda, hunt the jaguar and blue macaws in the Pantanal, pacing the royal gold road from Ouro Preto to Paraty, feel aromas of cocoa at Trancoso, stay for business in Sao Paulo, trudge in the Chapada Diamantina, navigate the Amazon and Tapajos near Santarem, floating on crystal clear rivers of Bonito, stay in one of the three magnificent Relais & Châteaux, walk and swim in the dunes of Lençóis, observe dolphins in Fernando do Noronha and tropical seabirds at Das Rocas islands, sunbathe on the beaches of Natal and Maceio, ride a buffalo (yes, a buffalo !) on the island of Marajo, be watered in the Iguazú Falls, drive a buggy alond the Nordeste, explore the trails of the Mata Atlantica, passion yourself for Niemeyer's architecture in Brasilia, admire the giant Amazon water lilies , walk the historic centers full of diverse influences of Sao Luis, Goias or Diamantina, dwell on tropical islands such as Robinson, walk all over the bay of Rio from Copacabana to Leblon through Ipanema and of course play futebol barefoot on the beach for a pickup game with your new friends … while Madame is pampered in the best spa in town!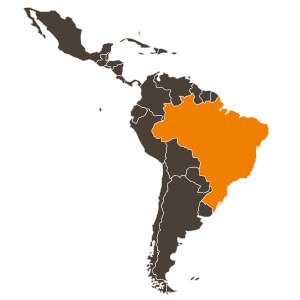 Brazil program suggestions
Brazil at a glance
Area: 8,514,876 km2. Is the fifth country in the world by land area and the number of inhabitants and the country's largest and most populous of Latin America. Slightly more than 12 times the size of France. It covers half of the territory of South America, sharing borders with all countries of the sub-continent except Chile and Ecuador.
Population (approx.): 192.380.000 inhabitants – roughly three times the French population.
Capital Brasilia: 2 million 570 thousand inhabitants
The second largest city in the country: Sao Paulo: 11 million 250 thousand inhabitants, it is the most populous city of Brazil and Latin America. In one city almost as many people in Bolivia.
Economy: In 2011, Brazil is the sixth world power. Brazil is one of the major emerging economic powers alongside China, India and Russia. But economic inequality is among the highest in the world. Brazil is a major producer of coffee with nearly a quarter of global production in the country is among the world leaders in the production of sugarcane, castor bean, cocoa, corn and oranges . Brazil is the industry leader in Latin America. The exploitation of its mineral wealth has made it the second largest exporter of iron and a leading producer of aluminum and coal.
Have read, seen and heard: (read) Joaquim Machado de Assis for his literary work, the most important on the 19th century in Brazil, João Guimarães Rosa and his novel Diadorim which is located in the "sertao" landscapes, the works of Jorge Amado, the writer of sensual passions of Bahia, Dona Flor and Her Two Husbands (adapted for the screen) or Gabriela, Clove and Cinnamon, (read) Brésil épopée métisse by Mario Carelli and The Amazon, a wounded giant by Alain Gheerbrant, (read) Rouge Brésil by Jean-Christophe Ruffin, (seen) Vidas Secas by Nelson Pereira dos Santos, (seen) the film Central do Brasil by Walter Salles and The City of God directed by Fernando Meirelles, (seen) Rio from the sky like the parrot Blu, (seen) the avant-garde architect designer Oscar Niemeyer and rococo sculptures by Aleijadinho, (seen) pictures of José Medeiros reports in the magnificent book Brazilian Chronicles, (seen) miniature animated characters of the Gerigonças from its inventor Molina, (seen) Pele dribbling player emblematic of an entire nation, (seen and heard) the film Veja Esta Cancion by Carlos Diegues, four love stories each inspired by a song of Brazilian popular music, (heard) the musical journey that invites us Heitor Villa-Lobos inspired by Indian and African traditions, it has become a symbol of Brazil metis, (heard) Caetano Veloso and the soundtrack of the film Orfeu Negro – with the appearance of names as Tom Jobim, João Gilberto, Vinicius de Moraes and Luiz Bonfa – which require the international bossa nova, the cd Tropicalia 2 of Gilberto Gil and bossanova by Roberto Menescal and Joao Gilberto and his interpretation of A Garota de Ipanema, the popular music of Doris Monteiro and Chico Buarque, the Mango beat musical and cultural movement alternative, combining local traditions and urban areas, which is among the richest ever known Brazil in recent decades and danced the Samba, the song most known Aquarela do Brazil, but also samba maestro Cartola, poet and sambista with heart and talent.
To read, see and hear these days : (read) The Amazon, a scientific and human adventure written by Gaëlle Fornet and Alain Pavé, (read) Nove noites by Bernardo Carvalho and Hotel Brasilia by Joao Almino and always Brasilia with her portrait photos by Vincent Fournier, (read) ) Comment sont nées les étoiles : Douze légendes brésiliennes by Clarice Lispector and illustrated by the talented painter Heloisa Novaes, (read) Là où les tigres sont chez eux by Jean-Marie Blas de Robles and Ladrão de Cadaveres the last original thriller by Patricia Melo, (see) Cecilia Amado's film inspired by the famous novel Captains of the Sands by Jorge Amado, his grandfather, this feature film tells the story of children of low funds Salvador in the '50s, the film Xingu epic and sensitive by Cao Hamburger, (see) films Heleno and Râbia that will delight fans of football and dance respectively , (hear) Cibelle Cavalli Bastos, alias Cibelle, music leaves room for inter-mixes genres: bossa nova rubs electronic music and folk and hip hop, as well as those talented artists such as Marisa Monte, Arnaldo Antunes, Luisa Maita, and Beto Villares, and the last album very resulted of Lucas Santtana, all in a musical mix excellent, (hear) Monica Passos, described by Jazz Magazine as "simply one of the most beautiful voices today" and the cd All in One by Bebel Gilberto, the talent would be hereditary in her case and samba rhythms and harmonies of jazz piano by Tania Maria.