Drink maté throughout the day, offer yourself a tango lesson on a varnished wood flooring, enjoy a glass of Malbec in the evening, listen to cumbia mixed with tango, read a story by Borges in the plane, pay an asado with one or more bills of 100 pesos with Eva Perón's effigy, converse in Italian while you are in Argentina, quibble if there was or not … hand of Maradona and other pibes pero no de oro, pretending to be a gaucho while you've got nothing of a jumper and even fewer herds of cattle, believe legends of Gauchito Gil putting a red ribbon in your rented car mirror, self invite you at the friends's day as Argentine people has a big heart, be out of political correctness borders imitating Mafalda, well live as an Argentine! Yes, going to Argentina all this is possible and even better because Argentina have landscapes of incredible beauty that will be the backdrop of the eighth art, your trip.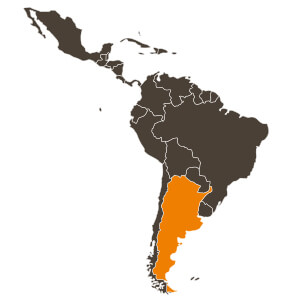 Argentina program suggestions
Argentina at a glance
Area: 2,766,890 km². More than four times the size of France.
Population (approximately): 42 million inhabitants.
Capital Buenos Aires 3 millions, the second most populous city in South America after Sao Paulo (Brazil), the Gran Buenos Aires : 13 million inhabitants.
The second largest city ??in the country: Cordoba: 1.6 million inhabitants.
Economy: Argentina is the second largest economy in South America after Brazil in terms of nominal GDP. The country has a large agricultural wealth, many industrial capacities and some mining potential.
Have read, seen and heard : (read) the work of Jorge Luis Borges, and his story collection El libro de Arena, (read) El Tunel by Roberto Sabato, Rayuela by Julio Cortazar and La Invención de Morel by Bioy Casares, (read) the subtle comic strip Mafalda by Quino, (read) two icons of Argentina: El cantor de tango and Santa Evita by Tomas Eloy Martinez, (seen) The tango lesson directed by Sally Potter with the tango dancer Pablo Veron, (seen) two Oscar-winning films La historia oficial de Luis Puenzo and El Secreto de sus ojos de Juan José Campanella in which plays, among others, the charismatic Ricardo Darin, (seen) Historias minimas filmed by Carlos Sorin in the landscapes of Patagonia, (seen) the optical art of Julio Le Parc and the dome of the Teatro Colon painted by Raul Soldi, (seen) the foot or the hand of God? of Diego Maradona on a football field, (seen) the numerous films and musical comedies on Eva Peron as Don't Cry for Me Argentina, (heard) and danced the Tango named the Intangible Cultural Heritage, the song El dia me Quieras sublimated by the voice of Carlos Gardel considered the most important tanguero in the first half of the twentieth century, while the second half of this century is inhabited by the bandoneon of Astor Piazzolla, and (heard) Roberto Goyeneche a legend music scene of Argentina, (heard) Ella ya me olvido by Leonardo Favio, and (heard) the folklore of Argentina composed by Atahualpa Yupanqui and beautifully sung by Mercedes Sosa, the Cantora.
To read, see and hear these days : (read) Mapuche the last black novel by Caryl Ferey, (read) Una vez Argentina by Andres Neuman and La perfecta otra cosa by Fernanda Garcia Lao, (read and see) after the excellent Bandoneon, the last comic strip Dear Patagonia by Jorge Gonzalez, (read) Washington Cucurto and his bestseller Cosa de Negros and encourage his publisher Eloisa Cartonera, (see) El Camino del Vino de Nicolas Carreras, Elefante Blanco Pablo Trapero's latest film, and the Gold Camera Las Acacias by Pablo Giorgelli, (see) De Martes a Martes directed by Gustavo Triviño and winner of the 2012 Festival of Biarritz, (see) the first film of Benjamin Avila Infancia Clandestina, (see) paintings where nature triumphs by Helmut Ditsch painter austro-argentine and the sculptures scrap of Carlos Regazzoni, (see) the next Dakar 2013 from Lima to Santiago through northwestern Argentina, (listen) to the charango of Oscar Miranda and the chamamé or the polka de Corrientes by Raul Barboza, and popular music of Horacio Guarany, (listen) in another kind El Hijo de la Cumbia fusion riffs of cumbia blended with dub effects and electro beats and La Macorina the traditional repertoire Latin American revisited with talent by Diana Baroni Trio and Alter Quintet and the inevitable Best Of of Gotan Project including unpublished Strength to Love and Checkmate / Jaque Mate and, for the younger, to learn about South American music, start with Cayetano and the whale accompanied by andean flutes, charango, congas, guitar and accordion and told with the argentine accent of Luis Rigou.