Venezuela
The essentials
Canaima National Park, Caracas, Los Llanos : The Must-See
Schedule
Itinerary
The stages of your trip
Venezuela / Caracas
Arrival in Venezuela
Venezuela / Les Llanos
  the Llanos
Venezuela / Les Llanos
Wildlife safaris
Venezuela / Ciudad Bolivar
The Caroni river
Venezuela / Canaima
Canaima National Park – Salto Angel
Venezuela / Canaima
Angel Falls – Canaima
Venezuela / Caracas
  Canaima – Caracas
Venezuela / Los Roques
Los Roques, turquoise color
Venezuela / Los Roques
Lazy Caribbean days
Venezuela / départ
Departure from Venezuela
Price
Information on our prices
Basis 4/10 pax with local guides: 2.060 €
From 8 persons with an English tour guide: 2.250 €
Extension Delta Orinoco (2 nights): +490 € p/pax
Including domestic flights
Excluding international flights
Review
From 2.060 euros Extensive savannas are lost on the horizon, populated by incredible wildlife, experience of staying in a Hato with nice safaris before you go swimming in Salto Angel's natural pools  in the heart of lush vegetation to finish in warm turquoise waters ....
Schedule
A taste of your trip !
Day 1

-

Venezuela / Caracas
Arrival in Venezuela
Arrival at  Caracas. Reception and transfer to a coastal hotel.
Night on  the oceanfront.
Day 2

-

Venezuela / Les Llanos
  the Llanos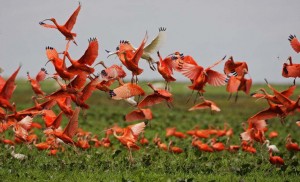 Flight to Barinas and then route to the vast central plains of Venezuela: the Llanos region. Installation in a Hato, large haciendas of thousands of hectares with their savannas, rivers and lagoons and their herds of cattle. First contact with these immense plains that contain one of the largest wildlife reserves in the world and represent 40% of the land area.
Night at Hato El Cedral.
Day 3

-

Venezuela / Les Llanos
Wildlife safaris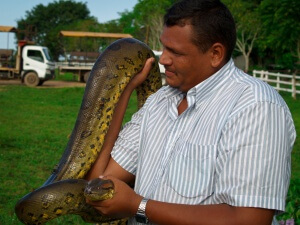 In 4×4 jeep, on foot, on horseback or in a canoe you will browse the savanna to observe the activity of the abundant wildlife, particularly concentrated around water points: alligators, pink dolphins, foxes, manatees, swamp deer, wild cats, anacondas, monkeys, and a multitude of birds inhabit the land of the gauchos Venezuelans.
Night at Hato El Cedral.
Day 4

-

Venezuela / Ciudad Bolivar
The Caroni river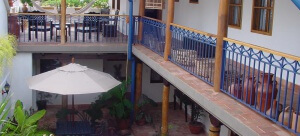 Back to Barinas airport and connecting flights to Puerto Ordaz to sleep in front of the Caroni's falls in a humid tropical atmosphere.
Night along the Caroni.
Day 5

-

Venezuela / Canaima
Canaima National Park – Salto Angel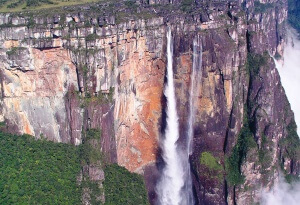 Flight to Canaima National Park, one of the biggest parks in the world, you will land in this incredible scenery that inspired Arthur Conan Doyle in writing his fantasy novel « The Lost World ».  From Port Ucaima you will take a curiara to go up stream the river Carrao through Mayupa rapids, and depending on the water level, you may have to walk about twenty minutes through the Mayupa savannah while the canoe will by carried by the crew. The table mountains are emerging in the area… swim in Pozo de la Felicidad (Well of Happiness), a basin formed by a small waterfall,  and walk on the trail to Island Orquídea where bromeliads, palms and orchids abound. Continued navigation on the Río Churún and that's when the Auyantepuy, the « mountain of the devil » in his native language, will be binding on you as a medieval fortress still sized gigantic with the stately fall of Salto Angel, the world's tallest  waterfall (979 meters). Once inside the canyon, the Angel Falls appears in all its majesty, while the boat docks on Isla Ratoncito where camp will be installed. Walk in the woods to get to the base of Angel Falls and its natural pool that invites you to a refreshing swim. Back at camp, swim in the river Churún.
Night in a hammock in the camp in front of this magical landscape.
Day 6

-

Venezuela / Canaima
Angel Falls – Canaima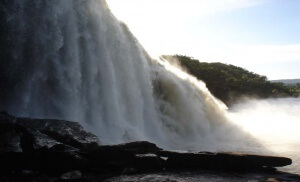 Back to Canaima lagoon bordered by a pink sand beach shaded by palm trees with waterfalls all around.
Night at Waku Lodge or Tapuy Lodge.
Day 7

-

Venezuela / Caracas
  Canaima – Caracas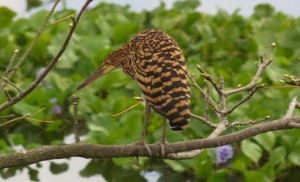 Back to Caracas
Night on  the oceanfront.
Day 8

-

Venezuela / Los Roques
Los Roques, turquoise color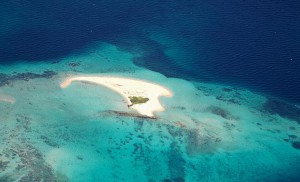 Flight to Los Roques, an archipelago of about fifty small islands, all very beautiful, picture-perfect postcard of Caribbean : white sand, emerald and warm sea, seabed teeming with colorful fish and spectacular coral.
Night in a posada in Gran Roque.
Days 9 & 10

-

Venezuela / Los Roques
Lazy Caribbean days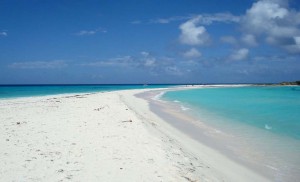 Lazing on the nearby islands of Gran Roque and have fresh lobster in season (November to April). Sheltered from cold fronts and hurricanes, making it one of the few places in the world where fly fishing is possible throughout the year. And, of course, scuba diving, snorkeling, kite surfing and windsurfing, boat rental for a day, many activities for beautiful days in this archipelago !
Nights in a posada in Gran Roque.
Day 11

-

Venezuela / départ
Departure from Venezuela