Colombia
Together for the best
Romantic getaways in Colombia : Medellin, Santa Marta & Tayrona National Park
Schedule
Itinerary
Une visite complète de la Colombie
Colombie / Medellin
Arrival in Medellin, Colombia
Colombie / Medellín
Medellín, say it with flowers
Colombie / Medellín
Medellin, outdoor activities
Colombie / Région du Café
In the triangle coffee
Colombie / Région du Café
Salento and Cocora Valley
Colombie / Région du Café
Un tinto por favor
Colombie / Santa Marta
Flight to Caribbean Coast
Colombie / Santa Marta
Park Tayrona's biodiversirty
Colombie / Santa Marta
Lazing along Caribbean sea
Colombie / Carthagène
Cartagena, the most beautiful colonial city in South America
Colombie / Carthagène
And very romantic
Colombie / Carthagène
Sunset over the Caribbean
Colombie / départ
Departure from Colombia
Price
Information on our prices
3.030 euros (Basis on 2 people)
Including national flights Medellin / Pereira / Santa Marta
Excluding international flights
Review
From 3.030 euros
A trip to fall in love as the places chosen are exceptionally beautiful, wrapped by art in Medellin, by the aroma of coffee in the Quindío, the lush forest ...
Schedule
Une visite en Colombie
Day 1

-

Colombie / Medellin
Arrival in Medellin, Colombia

Reception at the airport of Medellin, and installation in the most artistic city's hotel,  The Charlee ! Here art invades the space, modern and sophisticated in all rooms with a jacuzzi added for some rooms with views of the park Lleras, all for a romantic idyll in the city of eternal spring.
Night at hotel The Charlee.
Day 2

-

Colombie / Medellín
Medellín, say it with flowers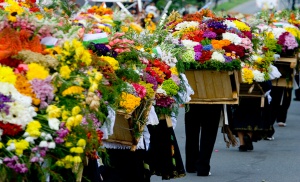 The most dynamic city in Colombia offers a variety of museums, theaters, art galleries and a very active nightlife with numerous bars and nightclubs . If you go in August, you can not miss the parade of los silleteros from feria de las flores (flowers festival) as one of the largest horticultural events in the world. The botanical garden and orchid collection is a nice stop as the zen park los pies descalzos, « the park barefoot »  and do not miss Botero's place with 23 sculptures of this colombian master artist, and, nearby,   the museum of Antioquia all almost dedicated to him. At Cerro Nutibara you will enjoy a reproduction of  a village antioqueño and stunning views of the Aburrá Valley. More views also thanks to Metrocable, the cable car aerial crossing the city to be admired from above.
Night at hotel The Charlee.
Day 3

-

Colombie / Medellín
Medellin, outdoor activities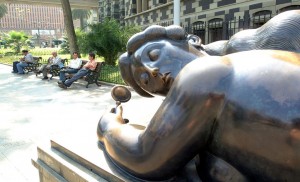 You choose if you want to go to Piedra de Penol a stone on top of a hill,  after a few 700 steps and thus a great view, or go to Santa Fe de Antioquia, a typical colonial village classified national heritage. Or simply stroll into town and enjoy its charm.
Night at hotel The Charlee.
Day 4

-

Colombie / Région du Café
In the triangle coffee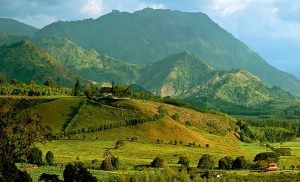 Flight to Pereira, and installation in a beautiful hacienda amidst lovely tropical gardens, ten charming rooms. Stroll in the cafetal between the Cauca Valley and the Cordillera Central, discovery of these wonderful landscapes coffee classified as World Heritage by Unesco! (Hacienda Bambusa is closed)
Night at Hacienda Sazagua
Day 5

-

Colombie / Région du Café
Salento and Cocora Valley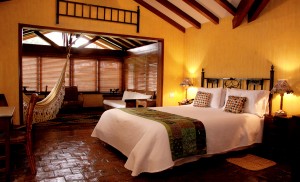 Road to the picturesque village of Salento … The aroma of coffee, red Yipaos, public transport chivas and innate kindness of the people gives this coffee region all the flavor of  Colombia. Stroll through the village of Salento with colorful colonial houses, musicians on street corners, an incredible diversity of crafts and delicious trout on patacón, this charming village in the coffee region is a must for all those who visit  Colombia . From there, departure in a  Willys, typical transport by jeep , to the Cocora Valley. Populated by giant palm trees that defy gravity of the earth, the Cocora Valley is a place of rare  beauty that surprises with its diversity of fauna and andean flora tropical green gradient. Short trek in this extraordinary valley where Palmas de Cera (Wax palm, the highest in the world), national tree, give to this landscapes a surreal dimension. In the afternoon, back by jeep to Salento jeep and drive to your hacienda.
Night at Hacienda Sazagua.
Day 6

-

Colombie / Région du Café
Un tinto por favor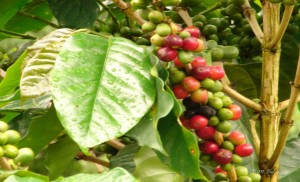 Day to enjoy these unique landscapes and the strong traditions atmosphere where grain harvest is done manually. Colombia produces 15% of world production and is the second largest coffee exporter after Brazil.
Night at Hacienda Sazagua.
Day 7

-

Colombie / Santa Marta
Flight to Caribbean Coast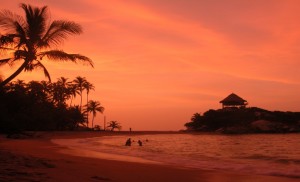 Flight to Santa Marta. Upon arrival at Park Tayrona, installation in a small bungalow on stilts nestled in the heart of the lush vegetation. Afternoon lazing on the beach of Cañaveral. The park is a magical beauty, trails between mountains, rainforest and sea with the most beautiful white sand beaches of the country and ancient volcanic stones bathed by the crystal blue waters of the Caribbean Sea;  Park Tayrona also has archaeological remains of an ancient city of the Tayrona civilization and its agriculture and trade. Today civilization sent its culture to « Big Brothers », represented by communities Kogui, Wiwa, and Arhuaco, guardians of mystical places such as the Lost City in the Sierra Nevada.
Night in a cabaña Ecohabs or at hotel Merecumbe.
Day 8

-

Colombie / Santa Marta
Park Tayrona's biodiversirty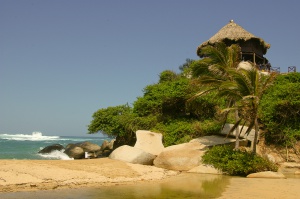 Day dedicated to tour the park Tayrona a sanctuary of flora and fauna. You will walk along its pristine beaches fringed by large oval enigmatic rocks. Opportunity to snorkel in the coral reefs of the piscina. Since Cabo San Juan, you can also take the long walk (and rock climbing) to pre-Hispanic ruins of Pueblito and meet there some Kogui families.
Night in a cabaña Ecohabs or at hotel Merecumbe.
Day 9

-

Colombie / Santa Marta
Lazing along Caribbean sea
Day to relax in a unique environment and enjoy the sun at the seaside and Spa.
Night in a cabaña Ecohabs or at hotel Merecumbe.
Day 10

-

Colombie / Carthagène
Cartagena, the most beautiful colonial city in South America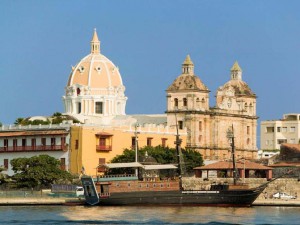 Road to Cartagena de Indias. On the way, stop at the Museo del Caribe in Barranquilla, outstanding scenery, a museum dedicated to the cultures and natural wonders of the Caribbean coast. Arrival at the hotel Ananda, a beautiful 16th century house completely restored, composed of beautiful rooms and a swimming pool on the roof of the historic city. Afternoon free for first discovering this beautiful city and its architectural treasures hidden behind its walls. Its architecture, its beautiful colonial houses and picturesque streets perfumed by the scents of tropical fruits and a delicious breeze make the charm of this famous city, considered the most beautiful colonial city in South America. The warm nights of Cartagena, illuminated color that contrasts with its colonial history, make it the ideal destination for lovers of romance.
Night at hotel Ananda.
Day 11

-

Colombie / Carthagène
And very romantic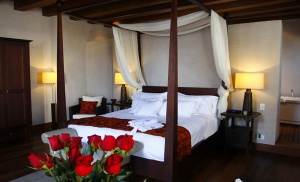 Free day to continue your sightseeing at your own pace: Fortress San Felipe de Barajas with its wonderful works of military engineering, the beautiful sculpture that will dazzle you with its beauty and its history, or the Cerro de la Popa for a panoramic view of the city and experience the cloister of Popa. Do not miss to watch the sunset from the restaurant Café del Mar, the place to be in Cartagena. Romantic, a carriage ride in the dark when the city lights of its many streetlights while hooves pound the pavement.
Night at hotel Ananda.
Day 12

-

Colombie / Carthagène
Sunset over the Caribbean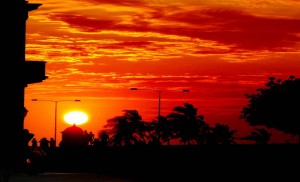 We advise you to stroll through the Bóvedas this long portico of 47  arches in the walls of the old city where craft stores are located … To conclude this journey into love, we offer an aperitif with sunset in the bay on a boat and book a table for dinner at Club de Pesca located in the fort « San Sebastián de Pastelillo », the restaurant terrace, pleasantly shaded, faces Cartagena Bay, is accessible by boat.
Night at hotel Ananda.
Day 13

-

Colombie / départ
Departure from Colombia